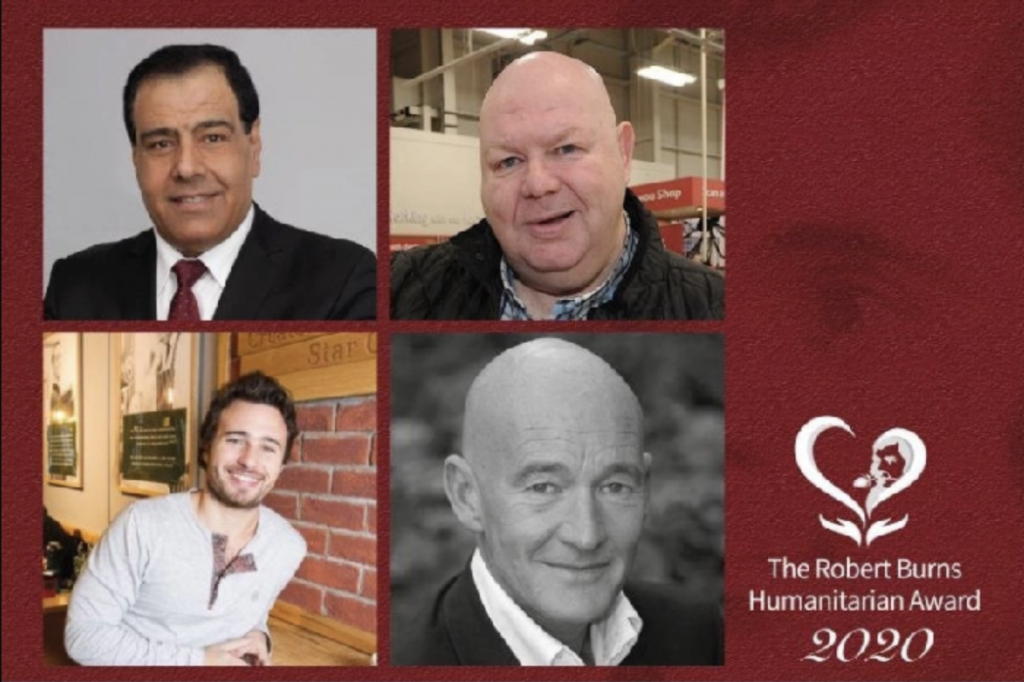 David Hayman, Patrick Rolink, Dr Izzeldein Abuelaish and Josh Littlejohn MBE.
Dr Izzeldein Abuelaishis a Palestinian medical doctor who has spent years promoting Israeli-Palestinian reconciliation. He views doctors as moral peacekeepers with a unique opportunity to bridge divides. In 2010 he wrote the book, 'I Shall Not Hate: A Gaza Doctor's Journey', which has become an international best-seller. Dr Abuelaish's humanitarian efforts, have led him to be known as the 'Martin Luther King of the Middle East'.
Josh Littlejohn MBE is the co-founder of Social Bite which was set up in 2012. Social Bite is a chain of sandwich/coffee shops that offer 100% of their profits to good causes. Each year, the Social Bite shops give more than 140,000 free items of healthy food to vulnerable people. Josh also established the Social Bite Fund which has helped provide accommodation to people affected by homelessness. In 2016 he received an MBE for services to social enterprise and entrepreneurship in Scotland.
Scottish actor, David Hayman, founded Spirit Aid in 2001, and in 2005 he was joined by comedian and after dinner speaker,Patrick Rolink,who is now a director of the organisation. Spirit Aid is a humanitarian relief organisation dedicated to alleviating the suffering of children and young people whose lives have been affected by poverty, neglect, abuse, lack of opportunity, humanitarian crisis or blighted by war. Spirit Aid currently has operations running in Scotland, Palestine, Afghanistan and Malawi. David and Patrick are joint nominees.
The Robert Burns Humanitarian Award is a globally-respected honour bestowed annually on a group or individual who shows selflessness and dedication in a bid to save, enrich or improve the lives of others through the protection and promotion of human rights and work to deliver social reform.
Named in honour of Scotland's son, Robert Burns, this much sought after humanitarian award applauds the efforts of people who bring hope and inspiration, often in desperate situations, and help change lives for the better.
The RBHA is a celebration of Burns Night and is part of Scotland's Winter Festivals – a programme of events funded by the Scottish Government and managed by EventScotland.
The current winner is Jasvinder Sanghera CBE – a British human rights activist who escaped a forced marriage, set up a dedicated charity to help victims of honour-based abuse and forced marriage, and helped change the law to make forced marriage a crime. You can read more about Jasvinder's story here.
As Scotland's National Bard, Robert Burns is celebrated as a pioneer of his generation, with his dynamic vision inspiring the founders of socialism and liberalism. The humanitarian values he embraced in his short life are captured for eternity in his rousing world famous works which are now his legacy. Burns' work continues to inspire people from all walks of life and in all corners of the globe.
The Robert Burns Humanitarian Award is supported by South Ayrshire Council and EventScotland. The winner receives a specially commissioned award handcrafted in Scotland and the equivalent of 1759 guineas – a sum which signifies the year of the Bard's birth and the coinage in circulation at the time – equating to £1,800 in today's currency.
Burns is one of Scotland's favourite icons, encapsulating the very essence that makes Scots Scottish. More information about how to celebrate Burns' Day and the life of the Bard himself can be found at www.scotland.org/burns
Source: https://www.south-ayrshire.gov.uk/burnsaward/